On the Path of Sacred Sexuality~ Osho Afroz, Lesvos, Greece
August 22, 2020 @ 09:00

-

August 26, 2020 @ 17:00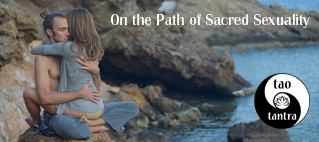 August 22nd-26th, 2020***
Are you seeking a broader and yet embodied definition of sexuality?  Are you interested in a sacred practice that has the power to feed the body, mind and spirit AND is rooted in two ancient traditions and thousands of years of practical experience?
Taoist Sexual Practices and Tantra are both founded in the understanding that the body is a sacred vessel- a vessel we use to experience ourselves as complete and eventually integrated beings. Taoist self- cultivation techniques include various physical and energetic practices, which purify and heal past traumas at the individual level. Tantric rituals and meditations nourish and cultivate the relationship with self, the other and world as the path toward wholeness and unity with the divine.  In an atmosphere of openness and warmth we work with the feminine and masculine polarities cherished by both Taoist and Tantric traditions.
On the Path of Sacred Sexuality is a celebration of the human capacities of self-awareness, compassion, playfulness and authenticity.  In this module participants will:
~ learn why sexuality is sacred
~ learn to drop masks imposed by society
~ get to know the truth about men's and women's orgasms
~ begin to accept and cherish one's own limitations
~ learn techniques of self-awareness and pleasure
~ feel a sense of openness and possibility
~ learn to perceive weaknesses as strengths
~ become aware of one's longing for authentic expression
~ learn how to reject outdated self- perceptions
~ refine one's ability to identify and attract a suitable mate
~ learn to create openness, depth and spaciousness in relationship
~ begin to live as love rather than to live for love
Explore the revitalizing and healing potential of sacred sexuality in a playful, safe and joyous environment. The event is open to all singles, couples and partners of whatever style of relationship.
All are welcome regardless of prior experience, sexual orientation, age or any other designation. Participants need not be in a relationship to attend.  No one will ever be obliged to go beyond one's limits of what one feels is safe.
Go to Osho Afroz for more information or to book.
***Beloveds, a decision was reached to cancel all workshops at Afroz in August. We are looking forward to meeting you and meditating together with you here this summer in the Buddhafield… or in Athens when we begin our one year program this September, Awakening the Ecstatic body!
Stay tuned!
***Αγαπημένοι, καθώς όλα τα σεμινάρια έχουν ακυρωθεί και για τον Αυγουστο στο Osho Afroz, το On the Path of Sacred Sexuality δεν θα πραγματοποιηθεί. Σας περιμένουμε να διαλογιστούμε όλοι μαζί εδώ στο Osho Afroz ή στην Αθήνα από Σεπτέμβρη που θα ξεκινήσουμε τον 1ο χρόνο σεμιναρίων με θέμα "Αφυπνίζοντας το Εκστατικό Σώμα!"
Μείνετε συντονισμένοι!