On the Path of Sacred Sexuality- Prague, Czech Republic
May 17, 2019 @ 10:30

-

May 19, 2019 @ 18:00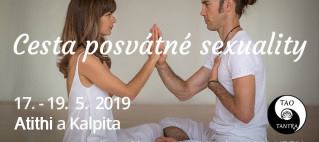 May 17th – 19th, 2019
On the Path of Sacred Sexuality is our signature event designed with everyone in mind!  Whether you're new to the idea of sex being 'sacred' or you've already been 'walking your path' for a while; whether you're in a committed, long term relationship, newly single or even celibate; regardless of your age, experience or physical health, this workshop has something to offer you.
 Antique Taoist Sexual Practices and Ancient Tantric Rituals are both founded in the understanding that the body is a sacred vessel- a vessel we use to experience ourselves as complete and eventually integrated beings. Taoist self- cultivation techniques include various physical and energetic practices, which purify, revitalize and heal past traumas at the individual level. Tantric rituals and meditations nourish and cultivate the relationship with self, the other and world as the path toward wholeness and unity with the divine.
 In an atmosphere of openness and warmth we work with the feminine and masculine polarities cherished by both Taoist and Tantric traditions.  On the Path of Sacred Sexuality is a celebration of the human capacities of self-awareness, compassion, playfulness and authenticity. In this retreat you will:
~ learn to drop masks imposed by society
~ begin to accept and cherish your own limitations
~ learn to perceive weaknesses as strengths
~ become aware of your longing for authentic expression
~ learn how to reject outdated self- perceptions, on all levels
~ refine your ability to identify and attract a suitable mate
~ learn to create openness, depth and spaciousness in relationship
~ begin to live as love rather than to live for love
​Come and explore the vitalizing and healing potential of sacred sexuality in a playful, safe and joyous environment. All are welcome regardless of prior experience, sexual orientation, age or any other designation.
For further information go to:
For booking contact Lu Neelam: